Many therapy models seek to solve problems and relieve symptoms by directing people to change their thinking and behavior. However, I believe therapy that seeks only to address and relieve symptoms fails to create significant and lasting change. While circumstances do exist where brief symptom relief is critical, we will look to move beyond symptom relief toward lasting change and meaningful relationships.
Spiritual Approach
Influenced by Eastern Orthodox theology, I view the counseling process to be a relational experience. In psychological terms, my approach is based on existential/psychodynamic therapy. This means that I believe the most lasting and significant change comes not only from applying techniques or theories, but more significantly from the relationship that develops between the counselor and the client. In addition, powerful changes occur as you come to understand how the past is impacting your present, which creates the opening to making more conscious choices.
Couples Counseling
I have chosen the Crucible® Approach as the model I follow when working with couples. All couples have sexual struggles. Sexual struggles are the deepest reflection of every struggle in the relationship and when looked at closely, allow for us to grow in ways that only this type of conflict creates. In this approach, you realize your gratitude for your inevitable struggles and how the working out of these struggles allows you to become the person God intended. The Crucible® Approach teaches you how to maintain your sense of self while staying connected to your partner both in and out of bed. Vibrant relationships have both security and mystery.
Clinical Supervision
As your clinical supervisor, I would be preparing you to be a licensed therapist for the state of Washington. I am an approved supervisor for the state of Washington. Our time together would include weekly appointments, a good understanding of how to resolve ethical dilemmas as they arise, on-going updates to changes in the WAC (ethical code), a deeper understanding into your own challenges, how to set and achieve personal goals, excellent resources, specialized supervision around complex trauma, personality disorders, adolescent counseling, and couples counseling, how to create self care, how to build a private practice, and how to build rapport with your clients.
Therapeutic Approach
Our work will be done primarily through conversation and interactive exercises. With adolescents I may incorporate games, art therapy, physical activity, stories or movie clips. I primarily use a neurobiological differentiation based approach to therapy that involves helping adult clients take radical responsibility for their life and choices. I will help you to be honest with yourself and confront the places where you are most stuck. In addition, I utilize EMDR, LifeSpan Integration, DBT, and Ego state work to help heal trauma.
As a therapist, I work alongside teachers, school counselors, coaches, religious leaders, doctors, and families.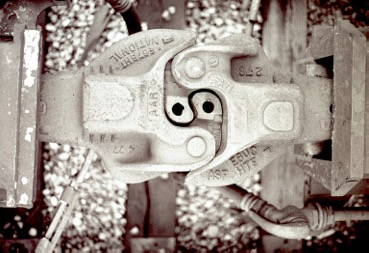 This train connector functions to connect two trains, interlocking, keeping the two joined. For me, it symbolizes that which makes life beautiful...two becoming one, two interconnected in a way that makes both stronger. The train connector can also draw our minds to the Trinity, where each part of God is unique and yet all are connected as One.